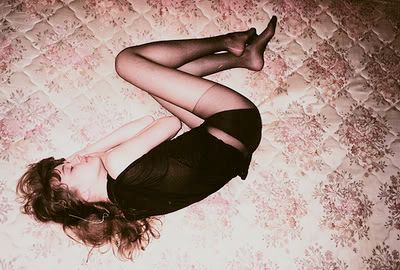 this is what happens to me:
i eating only raw veggies and fruit all day.
at night my sweet tooth caves and i eat something bad. usually a couple of cookies or a spoonful of peanut butter or otherwise (most likely) everything in sight.
so then i throw it up! ( oh mia, why do you have such a control over me)
i decided that if im going to a good mia i start with a fast.
i fast usually for one to two days.
then it ends with me acting like a fat man at an all you can eat buffet.
its pretty discusting.
none the less the cycle continues until i have breakdowns.
my issue is i never stay on track.
i get lost in my calorie counting lists and plans to lose weight.
they are all over my room.
overwhelming me of the countless failures i have been though.
i tossed them all. i need a fresh start.
a honest, positive, and gradual start.
so i have decided that my brand new plan is to go through the day
eating only what i can hold in my hand, small portion.
i eat breakfast like a 100-300 calorie meal.
i drink water before each meal and after to insure fullness.
i have a green drink for lunch.
and have veggies and fruit the remainder of the day.

when that sweet tooth kicks in, because i know it will
i will have my LARGE cup of chai tea with a little rice milk.

for excerise, this is actually sad.
i used to when i was 110 pounds, run 5-6 miles each morning,
now i can barely run around a mile and need to catch a breath.
i have been smoking, but i think im just way out of shape.
you must learn to crawl before you can walk.
im going to do basic yoga/pilates
walking for an hour at a time, doing sprints occasionally.

i just want to know what im doing to correct and actually going to prove
effects. who knows though right.


Intake:
water with lemon-5
a mini bagel- 180
a banana -120
green drink- 120
water-0
orange-0
small soup-120
chai tea-0